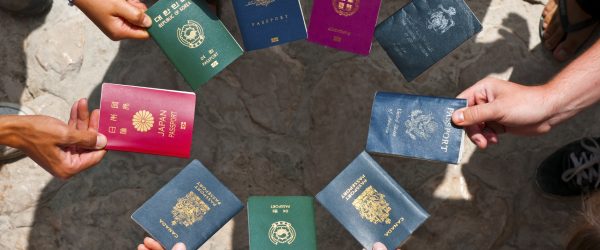 Exchange program – 10 destinations
There are different reasons to go on an exchange program, study, learn another language or just have a cultural experience.
Many people dream of going on an exchange, many study the possibilities and options, but choosing the right destination may not be easy, so whatever your reasons, I have today presented you with the 10 most requested exchange destinations nowadays.
Let's get straight to the point one of the most popular destinations is New York, Known as the capital of the world, the city is ideal for learning and improving English quickly and dynamically. It is also an opportunity to get to know and experience the North American way of life in big cities and is at the top of our list of the best cities to exchange because it is always one of the most popular destinations for exchange students.
Following now from the second to the tenth.
London – Opportunity for those who want to live in Europe's most multicultural capital. In addition to studying British English, the exchange student can still enjoy all the attractions of one of the most sought after destinations in the world. Highlight for London public transportation, efficient and very practical. For all this, London ranks second in our list of best cities for exchange.
Paris – One of the largest global business, cultural and gastronomy hubs in Europe, the capital of France is the first choice of those who wish to study French. Take advantage also to visit the famous museums and enjoy all the elegance of the city.
Barcelona – A beautiful, young and lively city attracts students from all over the world. Opportunity to experience the friendly Spanish culture and become an expert in the language. Highlight the intense cultural, gastronomic and night life of the city. Fourth place deserved on our list of best cities to do interchange.
Dublin – The capital of Ireland is among the most sought after by exchangers. Due to the excellent quality of life of the city, it is a fabulous destination to study English and enjoy the wonders and modernity's of the Irish capital.
Beijing – Another destination where it is possible to learn Mandarin and increase the curriculum. The typical cuisine, the modernity of the city and the distinctive lifestyle of the Chinese are also interesting points to experience while you are in the capital of China. On top of all this, electronic products and clothing have quite attractive prices.
San Francisco – The city of Southern California offers wide cultural diversity. It is a great destination to get fluent in English while taking advantage of local attractions: nightlife, outdoor music shows, gastronomic tours, sports and museums.
Singapore – One of the most sought after destinations in Asia for students. In addition to improving English, the exchange student still has the chance to live in a rising city in the world economic scenario. All this combined with natural and cultural beauties. It is worth investing in this destination!
Sydney – Always on the list of the best cities to do exchange, Sydney is one of the most developed and rich cities in the world. Ideal for learning the English language in a relaxed and natural way, Australia's largest city offers cultural variety, modernity and great opportunities for students. Security and tranquility are some of its main features.
Madrid – The capital of Spain remains one of the best destinations to learn or improve Spanish. The culture similar to Brazil facilitates the adaptation of the exchange students. The cultural and gastronomic options are two of the attractions of the city. Highlight also for the public transport: fast, practical, ample and safe, which facilitates the life of the exchange student.
Intercâmbio – 10 destinos
Existem diferentes motivos para se fazer um intercâmbio, estudar, aprender outra língua ou somente ter uma experiência cultural.
Muitas pessoas sonham em fazer um intercâmbio, muitas estudam as possibilidades e opções, porém, escolher o destino certo pode não ser nada fácil, então sejam quais forem os seus motivos, venho hoje lhe apresentar 10 destinos de intercâmbio mais requisitados na atualidade.
Vamos então direto ao assunto um dos destinos mais populares é New York, Conhecida como capital do mundo, a cidade é ideal para aprender e aprimorar o inglês de forma rápida e dinâmica. Também é uma oportunidade de conhecer e vivenciar o estilo de vida norte-americano nas grandes cidades e está no topo de nossa lista das melhores cidades para fazer intercâmbio por ser sempre um dos destinos mais procurados por intercambistas.
Seguindo agora da segunda a décima.
Londres – Oportunidade para quem quer viver na capital mais multicultural da Europa. Além de estudar inglês britânico, o intercambista ainda pode aproveitar todos os atrativos de um dos destinos mais procurados do mundo. Destaque para o transporte público de Londres, eficiente e muito prático. Por tudo isso, Londres ocupa o segundo lugar em nossa lista de melhores cidades para fazer intercâmbio.
Paris – Um dos maiores polos globais de negócios, cultura e gastronomia da Europa, a capital da França é a primeira escolha de quem deseja estudar a língua francesa. Aproveite também para visitar os museus famosos e desfrutar de toda a elegância da cidade.
Barcelona – Uma cidade bonita, jovem e badalada atrai estudantes de todo o mundo. Oportunidade para vivenciar a simpática cultura espanhola e se tornar expert no idioma. Destaque para a intensa vida cultural, gastronômica e noturna da cidade. Quarto lugar merecido em nossa lista de melhores cidades para fazer intercâmbio.
Dublin – A capital da Irlanda está entre uma das mais requisitadas por intercambistas. Devido à excelente qualidade de vida da cidade, é um destino fabuloso para estudar inglês e desfrutar das maravilhas e modernidades da capital irlandesa.
Pequim – Mais um destino onde é possível aprender o mandarim e incrementar o currículo. A culinária típica, a modernidade da cidade e o estilo de vida diferenciado dos chineses também são pontos interessantes para se vivenciar enquanto você estiver na capital da China. Além de tudo isso, produtos eletrônicos e vestuários têm preços bastante atrativos.
São Francisco – A cidade do sul da Califórnia oferece ampla diversidade cultural. É um ótimo destino para adquirir fluência no inglês enquanto se aproveitam as atrações locais: vida noturna, shows de música ao ar livre, roteiros gastronômicos, prática de esportes e museus.
Cingapura – Um dos destinos mais procurados na Ásia por estudantes. Além de aprimorar o inglês, o intercambista ainda tem a chance de viver em uma cidade em ascensão no cenário econômico mundial. Tudo isso aliado a belezas naturais e culturais. Vale a pena investir nesse destino!
Sidney – Sempre na lista das melhores cidades para fazer intercâmbio, Sydney é uma das cidades mais desenvolvidas e ricas do mundo. Ideal para aprender a língua inglesa de forma descontraída e natural, a maior cidade da Austrália oferece variedade cultural, modernidade e grandes oportunidades para os estudantes. Segurança e tranquilidade são algumas de suas principais características.
Madri – A capital da Espanha continua sendo um dos melhores destinos para aprender ou aprimorar o espanhol. A cultura semelhante à do Brasil facilita a adaptação dos intercambistas. As opções culturais e gastronômicas são dois dos atrativos da cidade. Destaque também para o transporte público: rápido, prático, amplo e seguro, o que facilita a vida do intercambista.
Até o próximo post!